J and H Plumbing LLC is pleased to specialize in boiler installation and repairs alongside its other services, including kitchen remodeling and water softeners. Our scope of abilities encompasses natural gas, LPG and oil-fired units of all sizes and capacities. And, for new customers, we can assist you in decided what the proper type and capacity of boiler is best suited for your needs.
Installation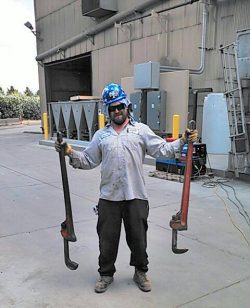 As experts in boiler installation in Mesa, Scottsdale, Gilbert, and Phoenix, AZ, we can tackle the process from top to bottom. From removing and retrofitting boilers to coordinating hookups and proper calibration, we'll get your unit up and running effectively in no time at all. We also test and monitor your boiler before we leave the job site, to ensure it's working perfectly after we install it.
Boiler Repairs
Noticing corrosion around the hookups of your boiler? Problems with water pressure during boiler operation? These issues demand boiler repair and J and H Plumbing LLC is ready to provide it. Our expertise of boiler operations and repairs is extensive, giving us the insight needed to properly service your system. We're the only call you'll ever need to make for boiler repair in Mesa, AZ.
Servicing All Systems
Our experience with boilers goes back decades. In fact, we've worked with all types of systems to deliver exceptional service. Some of our capabilities include:
New boilers powered by natural gas, LPG, or oil
Warm air units and ventilation
Radiant heating appliances and systems
Gas-fired catering equipment and kitchen safety systems
Large gas pipework systems for commercial and industrial premises
Renewable heating solutions including solar, air-source heat pumps, and biomass
When your boiler is acting up or visibly under duress, waste no time in calling us for complete and reliable repairs and service. Contact us today at 480-892-6564 and let us show you why we're the area's go-to boiler experts.