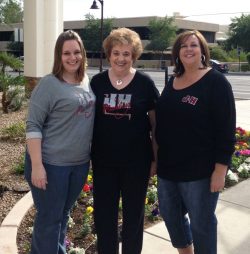 Jon Hopkins, the founder of J & H Plumbing, was a student in Arizona when he decided to start a plumbing business. Initially, he planned to do something else after college, but that changed when Jon discovered that his grandmother had been taken advantage of by a overpriced repairman. Twenty-six years later, Hopkins is still in business and has never forgotten that experience.
"I always consider the customers, and I don't take advantage of them," he says. Apparently that approach has served him well, as J & H Plumbing has grown from a one-man operation to a much larger company in Mesa. "We really are a family business", says Jon's wife, Jan, who runs the office. Their oldest son, Jesse, began working at the company at the age of 12. He now heads the service department. Jon's daughter, JenaLee, also works in the office. The Hopkins have been devoted mesa city residents for many years now.
J & H Plumbing is a full-service company, working in high end custom homes new construction as well as commercial projects. We are an all-around plumbing business," says Jan. "We do everything from fixing a broken toilet to remodeling an entire bathroom to brand new construction". The company's list of clients also includes many restaurants, schools and other businesses.
"Jon holds his own license and really knows what he's doing", Jan adds. "All of our guys are all around plumbers, doing all phases of work". J & H Plumbing also completes work for other plumbing contractors that may not be able to solve customers problems and assist them. The company has invested in state-of-the-art equipment to aid in repairs. Jon says he has found that rather than maintaining a huge advertising budget, the most effective way to get business is through returning customers and referrals. "Every phone call is answered by a live and knowledgeable person, not an answering machine", Jan explains. We can be reached 24 hours a day!!
J & H plumbing is committed to maintaining their reputation for great customer service. Their motto is to get customers and keep them for a life time. "I really care about the customer", Jon says. "It could be my grandmother, mom, or any other family member". Jon has been recognized for his service through Angels on Call Home Repair Services, a non profit origination which provides service and materials to needy families in the Phoenix area. Jan admits that she is the "tough" one and "Jon is the heart beat of the company". But Jon brushes it off, giving credit to his whole crew.